Toilets serve as concrete examples for industrial restructuring
Through an innovative project in Sri Lanka, an EPFL researcher and a Sri Lankan researcher have demonstrated that construction practices in transition economies can operate more efficiently, sustainably and responsibly.
Paolo Tombesi, an EPFL researcher, and Milinda Pathiraja, a Sri Lankan researcher, have completed an innovative project that evaluates the industrial development potential of architectural design through the construction of two toilet blocks at a Sri Lankan high school. Their prototype drew on nearly 20 years of research on industrial restructuring and construction policy-making.
"Construction activity in transition economies like Sri Lanka is fragmented into markets of different economic and cultural capacities," says Pathiraja. "Essential social infrastructure such as public toilets is usually positioned at the bottom of the value ladder. But if planned strategically, the design of such infrastructure can be used as an opportunity to showcase and disseminate innovation and introduce practice-based triggers for a much-needed revival of local building culture."
Opening of the toilets at Kandy High School, July 14, 2023. © RAW (Robust Architecture Workshop)
Pathiraja is a visiting fellow at EPFL's Laboratory of Construction and Architecture (FAR) through spring 2024. On 14 July 2023, he was on hand to inaugurate the newly built toilets at his old high school in Kandy, a city in the heart of Sri Lanka. The prototype builds on two decades of research that Pathiraja carried out with Tombesi, the head of FAR.
The toilet blocks at the Kandy public school are seemingly simple in design. Their roof consists of two ferro-cement vaults and the exterior walls are assembled from holed cement blocks. The entire structure sits atop brick mass. The resulting ventilation, natural light and spaciousness are a major improvement on the dirty, stifling concrete walls that the new blocks replaced. The project proved to be quite complex, as it establishes a contemporary language and explores industry-reorganizing tactics for this introductory market.
"We've received very positive feedback since the new toilets were opened," says Pathiraja. "Our project's industrial design ambitions fit well with the improvements we achieved in environmental performance and comfort."
PhD research
Pathiraja completed his PhD in architecture at the University of Melbourne in 2005. His thesis looked at the possibility of using real architectural design for construction policy-making in developing economies, and his supervisor was Tombesi, who hadn't yet moved to EPFL. Since then, Pathiraja and Tombesi have continued to work together towards a shared goal: bringing practice and research together to test hypotheses on how to improve industrial planning in transition economies. The intellectual and investigative base of the researchers' innovative design owes much to Pathiraja's PhD research, but it was also informed by his joint endeavors with Tombesi, including two international symposiums (in 2011 and 2013), two Master's workshops at EPFL (in 2017 and 2018), and several research articles. In parallel, Pathiraja jointly manages a Robust Architecture Workshop in Colombo together with his wife, Ganga Ratnayake.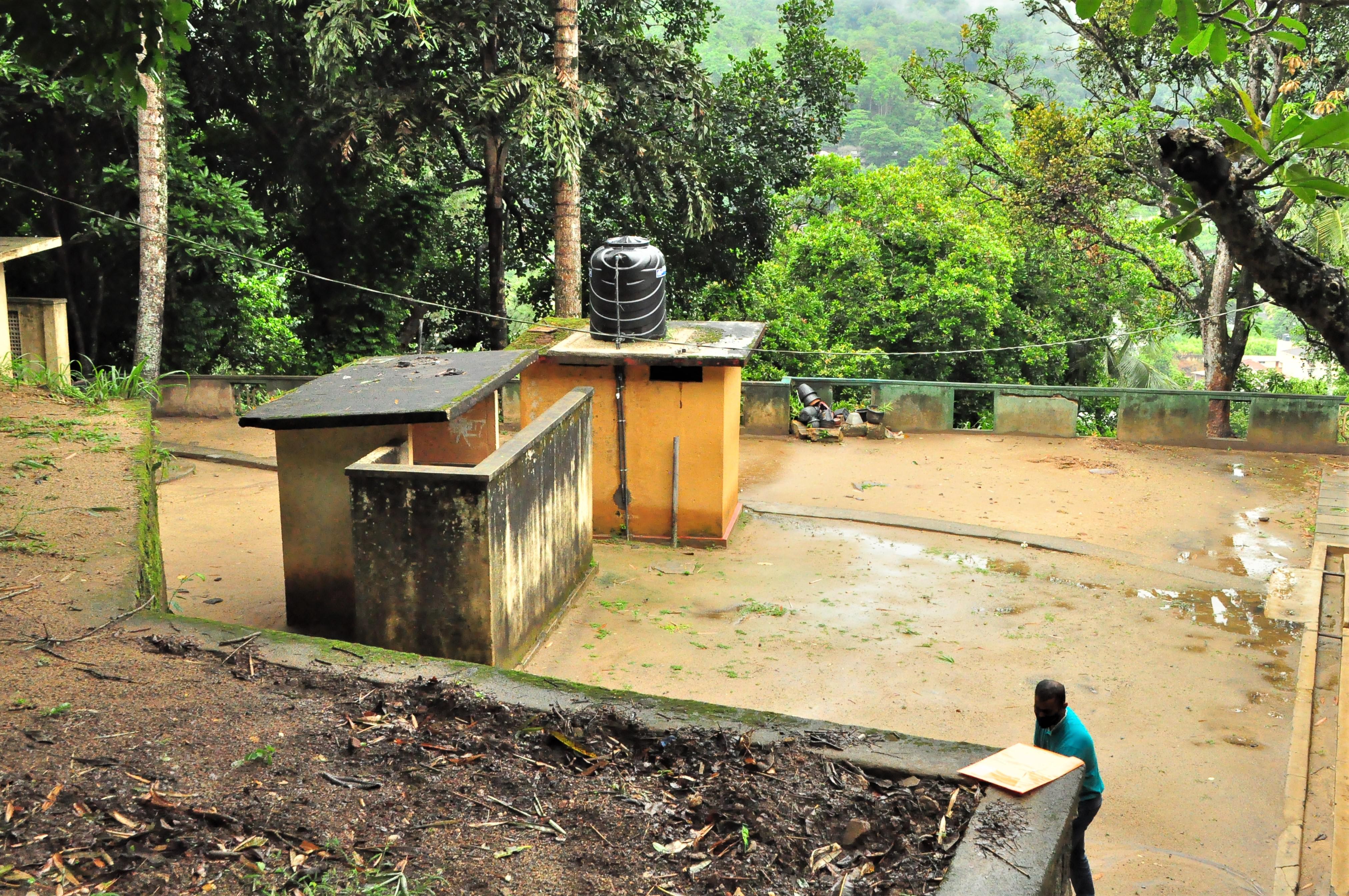 The new toilet blocks have replaced dilapidated and unused toilets. © RAW (Robust Architecture Workshop)
«This project gave us a chance to show that it is possible to design and build sustainably in Sri Lanka.

»
Sustainable construction
The toilet blocks are the latest, and so far the most developed, application of their strategic ideas, and are particularly relevant for the challenges the country is currently facing. "Our pilot project wasn't just about building toilets," says Pathiraja. "It also gave us a chance to show that it is possible to design and build sustainably in Sri Lanka while factoring in the country's industrial conditions, challenges and expectations. The language of concrete components used in our project aims to find the right balance between industry-organized and craft-organized construction practices and cultivate new, economically sustainable and ecologically-minded building 'traditions' for countries subject to urbanization pressure, limited raw materials and financial constraints."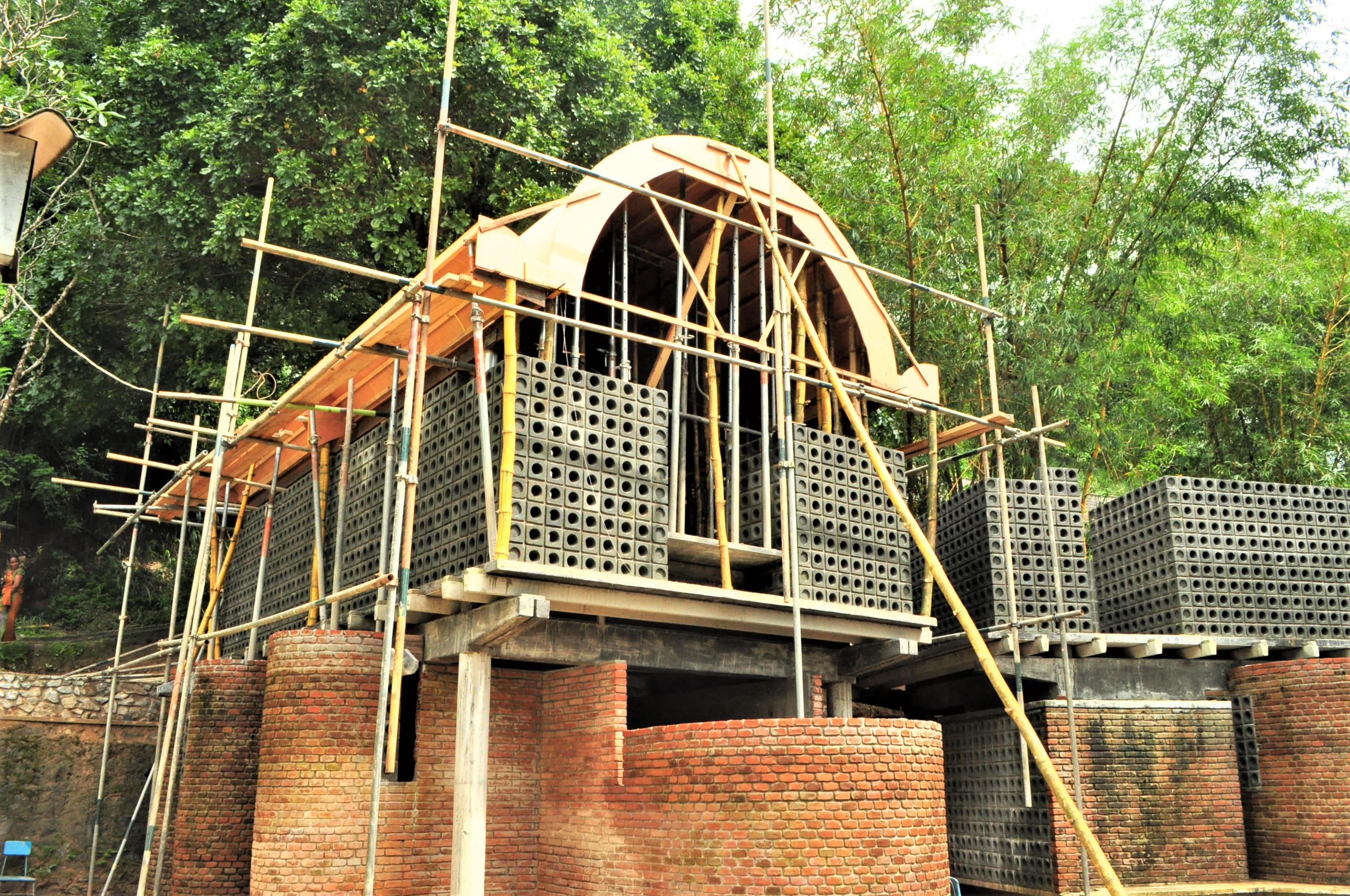 The concrete casing of the vault. © RAW (Robust Architecture Workshop)
Local materials and prefabrication methods
The project's design constraints were clear: given the dismal state of Sri Lanka's economy, the researchers had to be cost-conscious. Pathiraja explains: "Sri Lanka is currently experiencing an economic crisis including a depletion of its financial reserves, a drop in construction activity and a drastic decline in materials imports. That's opening up opportunities to bring back post-independence construction know-how, especially with regard to local prefabrication methods. It also encourages the use of local materials with a smaller carbon footprint and the kind of labor intensity the economy needs."
By using locally-produced cement components and effecting a change in morphology and language, the researchers have avoided the use of the more common building materials (such as aluminum and glass) that are delivered through global supply chains, which consume significant gray energy. In addition, the kit-of-parts modularity allows for transferability while the small-scale building components provide a technical base for penetrating the industry.
Air force soldiers on the construction site. © RAW (Robust Architecture Workshop)
From soldiers to builders
Air force soldiers were used as the labor force for this project as both a cost-saving tactic and a capacity-building strategy. The airmen were upskilled through strategic training carried out during the building process. The researchers also made a point of using low clinker cement, since clinker is neither available in Sri Lanka nor eco-friendly, and developing building systems that require less cement than standard practices. "The language we used of frame and infill gave us the flexibility to introduce building systems of combined economic and ecological benefits," says Pathiraja. "For example, ferro-cement vaulted roofs combine cost-effectiveness, ease-of-maintenance, ease-of-aging and lower material content with improved water collection, volumetric feel, stack ventilation and vandal resistance. That illustrates how construction policy-making and sustainability result in value creation at different ends."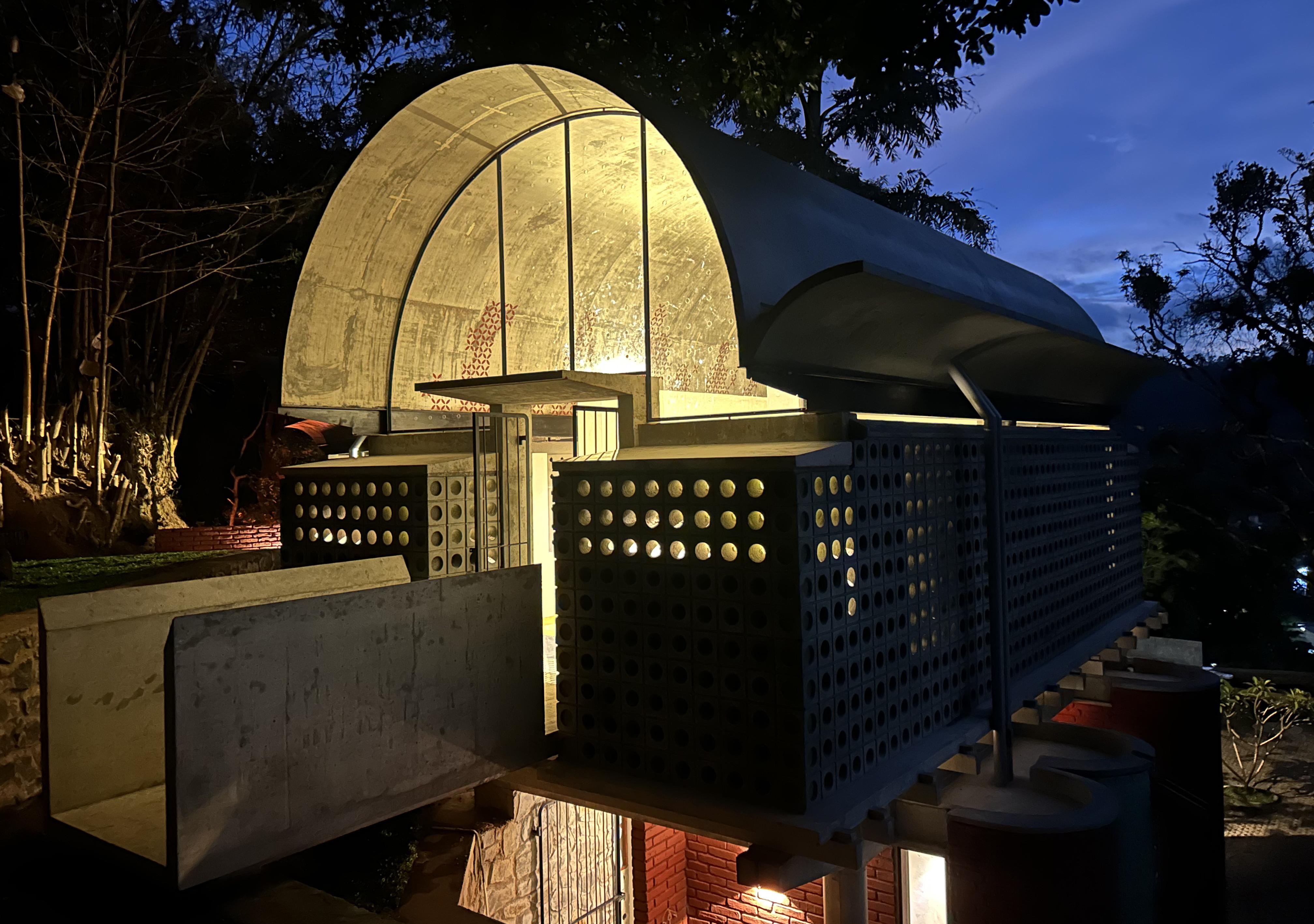 The sanitary blocks also offer a welcoming space at dusk. © RAW (Robust Architecture Workshop)
"But to unleash this value, the industry needs concrete examples and prototypes capable of showing both the technical worth and the economic feasibility of these kinds of ideas," adds Tombesi. "Our as-built toilets do exactly that by meeting demanding design standards while holding the overall cost down to 400 dollars per square meter, including sanitary appliances. And given the need for this type of program across the country, the lessons we learned are likely to be taken up by others." The new toilets – aptly dubbed "The Lanterns" – aim to help the broader construction industry see the light.
Shaking up the industry
As part of his visiting fellowship at FAR this year, Pathiraja will work with Tombesi on a Swiss government funded life-cycle analysis of conventional commercial structures built recently along Sri Lanka's arterial roads. The results of the analysis will be compared with those achievable through the construction approach employed in the toilets project. The goal will be to show that the right industrial strategies can be competitive in terms of architectural quality, cost and environmental impact. In this respect, Sri Lanka will be used as a springboard for a larger venture. Pathiraja and Tombesi believe that the dynamics they're testing in the country will be applicable to many other regions. Building high-school toilets as a trigger for sustainable change in the construction industry may sound ambitious, but the two colleagues and friends are optimistic. "A global journey starts with small steps locally," says Tombesi.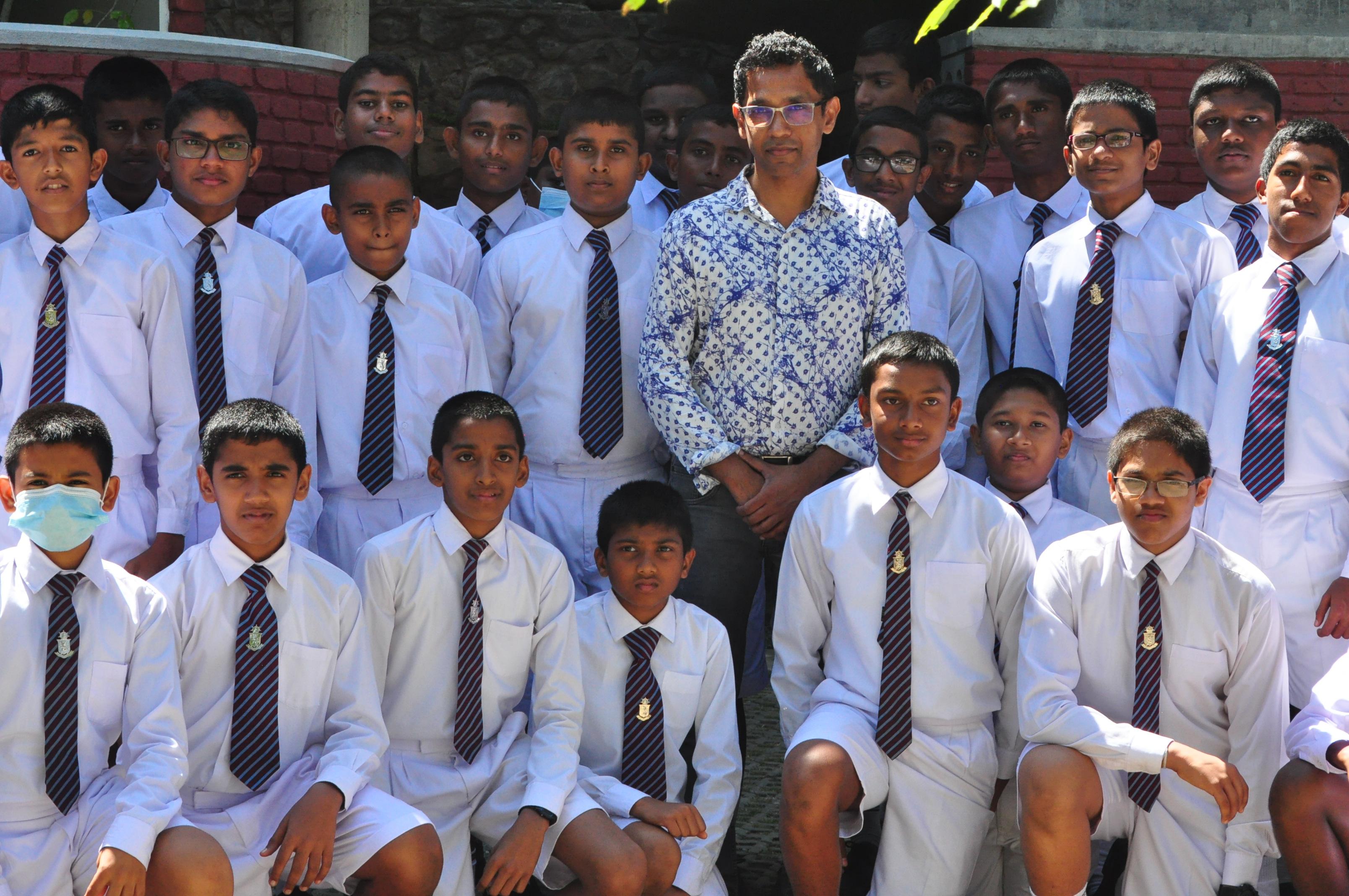 Milinda Pathiraja in the middle of the High School students of Kandy on the opening day. © RAW (Robust Architecture Workshop)