Smart ring offers a simple way to monitor your health
Senbiosys, an EPFL spin-off, has unveiled a jewelry-like smart ring that incorporates all the health-monitoring features currently available in smart watches. The company's notable achievement in miniaturization – made possible thanks to the world's smallest sensor, developed at EPFL – appears to have major market potential, as its recent crowdfunding campaign raised five times more capital than expected.
The market for connected medical devices is booming. According to Bloomberg, it will expand by a factor of six between 2021 and 2028 to reach 296 billion dollars. At the same time, these devices are collecting increasingly reliable data, and programmers are developing ever-more powerful algorithms to process them. Many wearable devices today use photoplethysmogram (PPG) sensors – placed for example under connected watches and distinguishable by the colored LED light they emit – to measure vital signs like heart rate, blood oxygen levels, breathing rate and blood pressure. After several years of miniaturization research, EPFL engineers have developed technology that concentrates all the monitoring capabilities available on smart watches into an area that's four times smaller, breaking all records. This miniaturization prowess – a breakthrough that's backed by several patents – also means much less power is required, and so a significantly smaller battery can deliver the same battery life.
These innovations are at the heart of Iris, the smart ring marketed by Senbiosys – a firm founded by two former EPFL PhD students in 2018. Iris packs a myriad of health monitoring sensors into a piece of jewelry roughly the size of a wedding band. The company's crowdfunding campaign will soon draw to a close and has already raised five times more than the initial target of 100,000 francs. The proceeds will be used to take Iris from the prototype stage to large-scale production.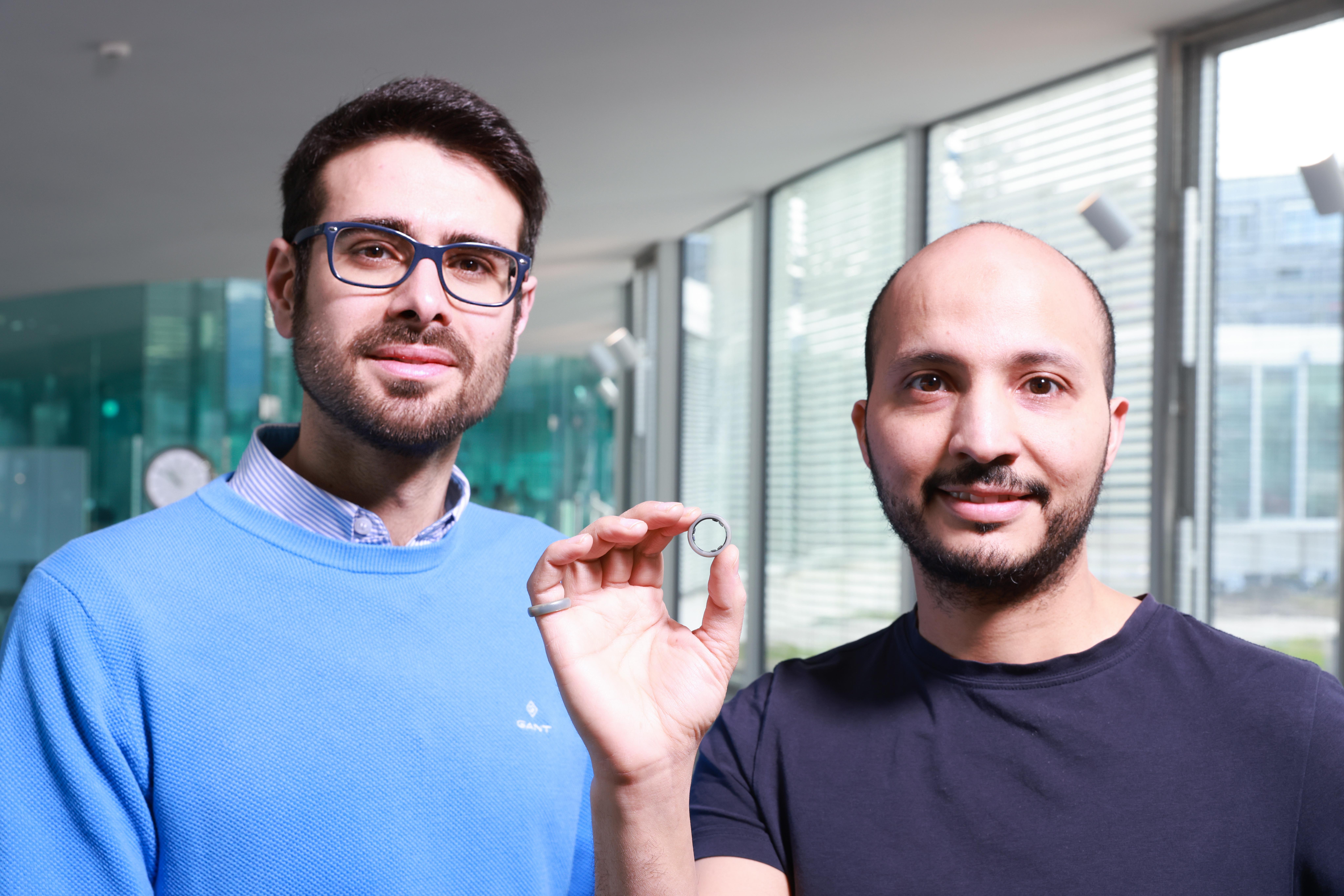 Antonino Caizzone and Assim Boukhayma, cofounders © 2023 Alain Herzog
The world's smallest PPG sensors
The PPG sensors used in wearable medical devices contain LED light sources coupled with photodetectors and an electronic reading system. The photodetectors capture the light reflected from the LEDs and feed this information into algorithms, which then calculate the wearer's vital signs. Senbiosys's PPG sensors measure just four cubic millimeters, which is four times smaller than the ones found in competing devices on the market. When it comes to this kind of miniaturization, the biggest obstacle is usually the power needed to run the LEDs. But extensive research at EPFL's Integrated Circuits Laboratory in Neuchâtel has produced tiny photodetectors that can pick up signals just as clearly as existing ones – from a light source that's much less intense. This discovery has made waves across the industry. "Our breakthrough has given rise to around 60 journal articles in the fields of microelectronics and optical sensors," says Antonino Caizzone, a Senbiosys cofounder who received the 2021 Gilbert Hausmann Award for his thesis in this area. "It's also led to 11 patents, including some obtained at EPFL, and our work has been cited around 1,000 times."
«Thanks to inventions we came up with in the MICS Lab, we were able to miniaturize the professional-grade sensors used in bulky devices like blood pressure monitors and pulse oximeters.

»
Six sensors around a single finger
Senbiosys's miniature photodetectors are already used in a number of electronic devices, such as hearing aids produced by other companies. Today, the photodetectors equip a smart ring measuring 5 mm wide and 2.5 mm thick. "We felt there was potential to use our sensors to create a new product directly for consumers," says Caizzone. "Several journal articles, including one appearing in Frontiers in Physiology in 2019, have shown that taking vital-sign measurements on the wrist isn't ideal, since data reliability can be impacted by the wrist's size and shape. Readings taken on the finger or ear are better. Another reason why we decided to develop a smart ring is that watches can sometimes be impractical. They can cause discomfort while sleeping, for example."
Iris isn't the first health-monitoring smart ring out there, but what sets it apart is its ultra-compact design and low power requirement: Iris looks more like a piece of jewelry than a health product. The ring can be fully charged in just half an hour. It contains 18 LEDs and six photodetectors, allowing for enhanced accuracy relative to existing products. Assim Boukhayma, also a Senbiosys cofounder, explains: "Thanks to inventions we came up with in the lab, we were able to miniaturize the professional-grade sensors used in bulky devices like blood pressure monitors and pulse oximeters." Because Iris contains six photodetectors, it collects enough data to calculate averages for each parameter, which isn't the case for smart watches or more cumbersome smart rings. "Another benefit to Iris' smaller size is that less materials are needed to make it, meaning we can sell it at a lower price point," adds Boukhayma.
Being able to measure vital signs continuously outside of a hospital setting will become increasingly important given the aging population and growing prevalence of obesity and heart disease. Senbiosys carried out a clinical study of its technology at the Fribourg cantonal hospital, comparing heart rate data collected by its miniaturized sensors with those collected by an arterial catheter. The study found that the two methods gave comparable readings. "However, our goal isn't to create a medical device for doctors but rather to provide a personalized way of tracking different health indicators," says Boukhayma. "Our eyes are set on prevention. If users see significant changes in their vital signs, that can prompt them to contact their doctor." The first version of Iris will provide measurements of heart rate, step count, blood oxygen level, sleep quality, stress level and calories burned. "We intend to continually improve our algorithms and smartphone app and will make updates available online as soon as they're ready," says Boukhayma.
Preliminary market study with a specialized firm
Senbiosys has raised a total of 5 million francs in capital since it was founded, and has used these funds to develop photodetectors for industrial applications. But in 2022, its cofounders wanted to evaluate the potential for a B2C product. They carried out a market study which led to the idea for Iris. Thanks to the over 500,000 francs raised so far in the crowdfunding campaign, Senbiosys will be able to move forward with production and fulfill the preorders made by crowdfunding participants, scheduled for delivery in late 2023. "First we'll determine how many parts we'll need – mainly the circuit boards, batteries and mechanical components," says Caizzone. "Then we'll finalize our assembly process to make sure all the different components are integrated correctly."