New program supports femtech entrepreneurs
Thirty startups have raised CHF 60 million in funding through Tech4Eva, continental Europe's first program designed specifically for entrepreneurs in the field of femtech, or technology for women's health. On 7 December, Switzerland's first femtech conference will mark the end of Tech4Eva's inaugural year – and kick off the next funding round.
Many men, and nearly just as many women, don't know what a tenaculum is. It's an instrument used by gynecologists to grasp and hold the cervix during procedures such as IUD insertion; it resembles a long pair of scissors with sharp-pointed hooks at the end. Tenacula are used frequently – some 80 million times a year worldwide – and without anesthesia. Although they can be painful and cause bleeding or even perforation of the cervix, the design has not changed since the instrument was invented in the late 19th century. This latter fact should not be so surprising, as only 4% of research spending on healthcare is devoted to the many medical concerns specific to women (such as pregnancy, menstruation, contraception, fertility, menopause, and certain types of cancer and mental-health issues).
Femtech aims to address this inequality, aberration and injustice by developing systems and devices intended specifically for women's health. EPFL Innovation Park, through a joint initiative with Groupe Mutuel, is supporting femtech entrepreneurs with the new Tech4Eva program. Introduced on 8 March 2021, the program aims to serve as a femtech startup accelerator and is the first of its kind on continental Europe. For nine months, it gave entrepreneurs from 30 high-potential startups the opportunity to take part in seminars, receive coaching from a mentor, meet with investors, and go on roadshows – this year to Japan, the US, the UK and two Swiss cities. The inaugural year of the program will culminate in the first annual Swiss femtech conference at the SwissTech Convention Center on 7 December. The conference will provide an opportunity to showcase the work being done by the selected startups and take stock of the progress that still needs to be made in the area of women's healthcare.
«We aspire to become Switzerland's innovation hub for women's health, and to take femtech R&D to the next level.

»
"With Tech4Eva, we have built up a strong femtech business network and ecosystem including not only startups, but also corporates, research centers and healthcare providers," says Ursula Oesterle, the president of EPFL Innovation Park. "We aspire to become Switzerland's innovation hub for women's health, and to take femtech R&D to the next level."
Replacing the tenaculum
The program organizers initially intended to select just 15 startups. But since 110 businesses applied, they decided to accept 30 (including ten from Switzerland), half of which are in the launch phase and half in the growth phase. The businesses span four segments of the women's health market: prevention and well-being; pregnancy and post-partum; fertility; and menstruation, menopause and incontinence. The selected startups include: breathe ilo, which has developed a breath-analysis system for tracking the menstrual cycle; Embr Labs, which created an electronic bracelet that can provide relief for hot flashes; Fizimed, which markets a smart Kegel trainer for strengthening the pelvic floor; MOMM Diagnostics, which has invented a rapid test for detecting pre-eclampsia; Muvon Therapeutics, which supplies an autologous cell therapy for treating muscle damage; CorDiFio, which has developed an AI-powered system for the early detection of heart disease; KOVE medical, which introduced a device that can seal the fetal membrane after fetoscopic procedures, thereby helping to prevent premature births; and Aspivix, which has designed a pain-free vacuum-based suction head that can (finally) replace the tenaculum.
CHF 60 million and counting
"Embr Labs has participated in many accelerators, and Tech4Eva has been one of the most valuable experiences to date," says Elizabeth Gazda, Embr Labs founder and CEO. "In addition to excellent exposure and mentoring, it's refreshing to participate in a program that's dedicated to the femtech space and allows companies to accelerate learning and growth." Boston-based Embr Labs has already raised $35 million in venture capital, including $22 million through the Tech4Eva program. It plans to raise a further $40 million in the next seven to 12 months.
Tech4Eva has opened the door to CHF 60 million in funding for the selected startups ($26.2 million so far this year and $33.7 million set to be finalized in the next three months). The femtech market is big and growing – women spend more on healthcare than men do and the market is expected to swell to $50 billion by 2025. But the primary motivation for these entrepreneurs isn't financial. Women die every day due to a lack of research on diseases specific to their needs. By creating a femtech ecosystem, Tech4Eva hopes to build awareness about the importance of this kind of R&D – not just among startups, but in healthcare systems more broadly – and of compiling the necessary data and providing the requisite training in medical schools. Not to mention the need to break down the taboos around discussing fertility, menstruation and menopause. The next edition of the Tech4Eva program will kick off in early 2022, and applications will soon be accepted from femtech entrepreneurs anywhere in the world.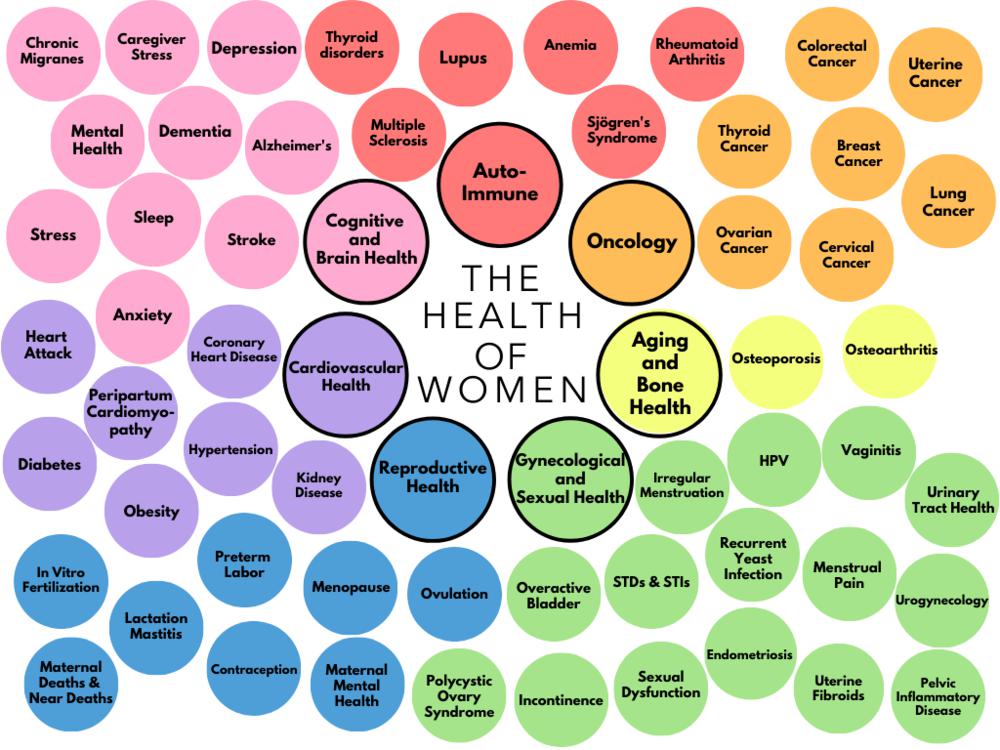 ©https://www.womens.health
Tech4Eva Conference
This first edition of the Tech4Eva conference will bring together entrepreneurs, innovators, university researchers, ecosystem-builders and other stakeholders to discuss the present and future of the femtech industry. It will be held remotely from the SwissTech Convention Center on 7 December. In the morning, Audrey Tsang, co-CEO of Clue by Biowink and the woman who coined the term "femtech," will discuss her exceptional journey in the keynote address; we will also hear from the CEOs of startups selected for this year's program. The afternoon program will feature the Swiss Accelerators' Showcase, where participants can virtually meet the founders of this year's Tech4Eva startups and those of around 40 other high-tech startups housed in business incubators and accelerators across Switzerland. This part of the program will be carried out through a novel 3D immersive platform.