EPFL Rocket Team crowned European champion of rocket launching
The EPFL Rocket Team was crowned champion at this year's European Rocketry Challenge (EuRoC) in Ponte de Sor, Portugal. Now in its second year, this competition held by the Portuguese Space Agency brought together 19 teams from across Europe.
At around 2pm on Thursday, 14 October, Bella Lui II – the rocket designed and built by the EPFL Rocket Team – took off from a military base near Ponte de Sor in Portugal. Launched into a clear sky, the rocket climbed to 3,167 meters before falling back down. Its descent was moderated by two parachutes bearing the colors of the Swiss flag that had been hand-sewn by the team. Three days later, the competition's judges announced their decision. They named the EPFL team as the overall winner, and they awarded it the Hybrid 3km Flight Award for achieving the best flight in its category.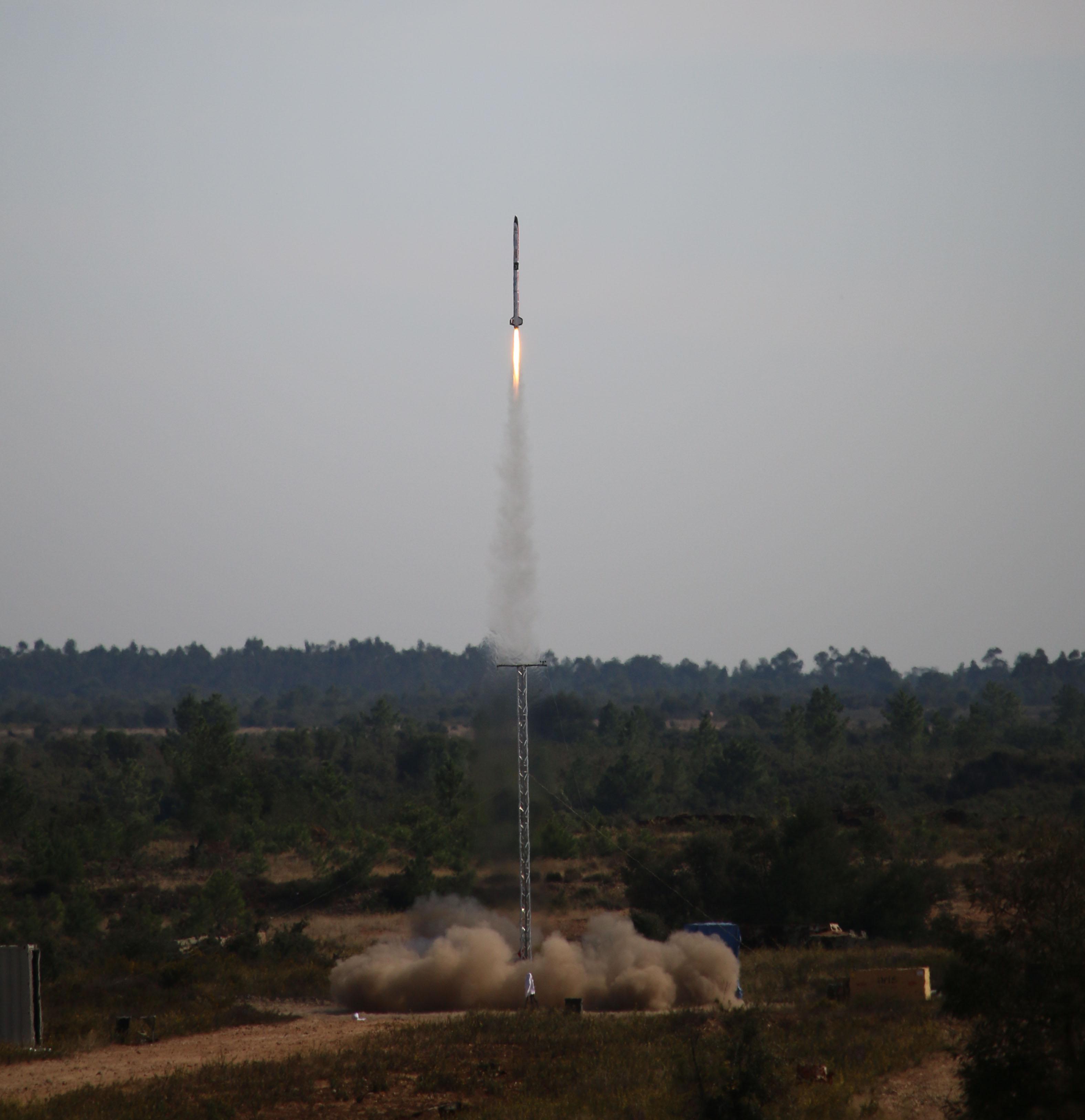 © EPFL Rocket Team
This is the EPFL Rocket Team's first victory at a competition. It was not only the first time that the team formally launched one of its rockets at this kind of international event, but it was also the members' first opportunity to test the hybrid engine that they had built. "Before, we simply bought a solid-fuel rocket engine so that we could focus on the rest of the system," explains Théophile Balestrini, who led the propulsion team. "This time, we built a hybrid engine from scratch using a liquid oxidant and solid fuel." A hybrid engine complicates the design substantially because it requires valves and special electronics to function properly. It does however improve thrust control, which allows for greater precision over the altitude reached – a factor the teams were judged on during the competition.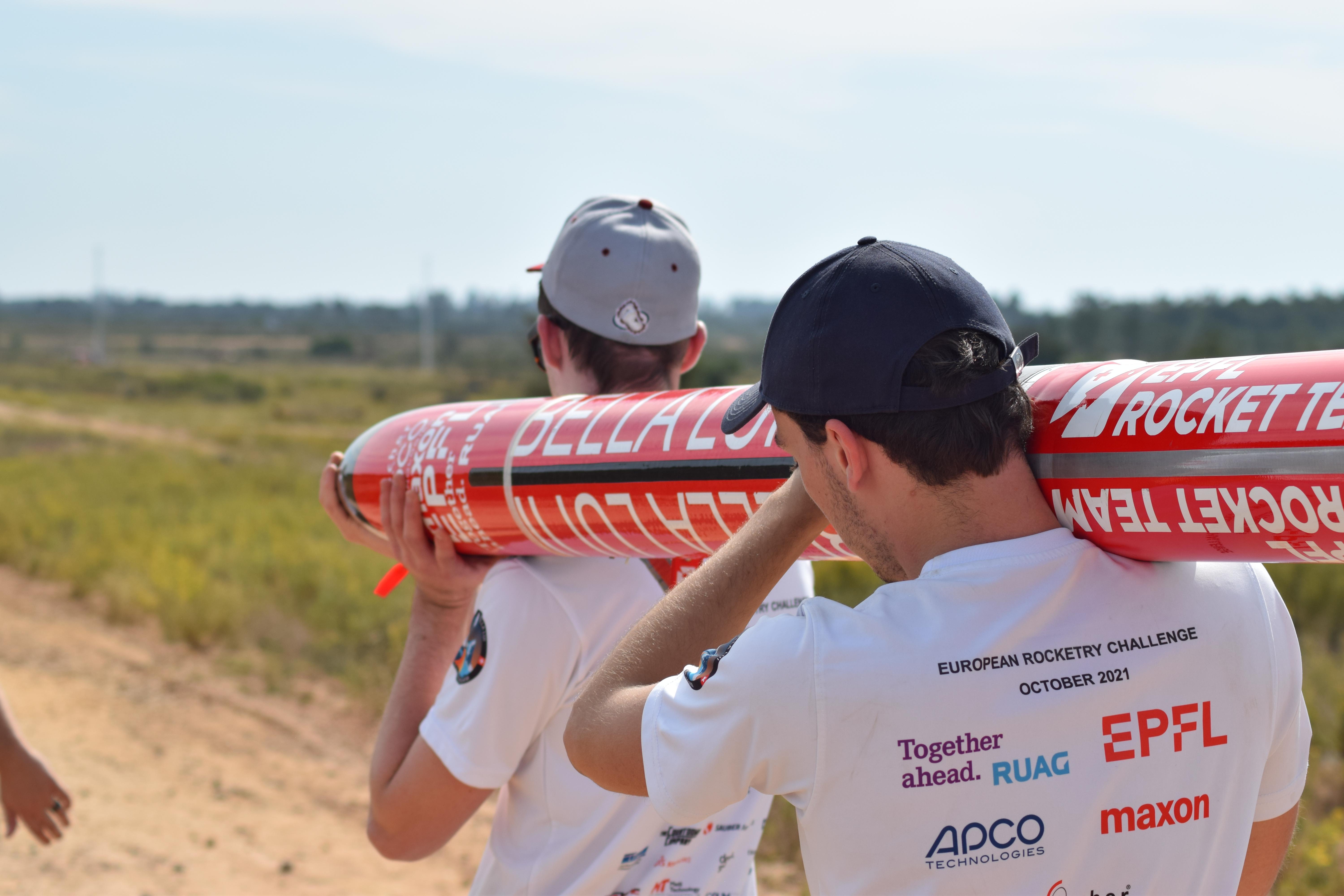 © EPFL Rocket Team
One issue that proved to be a major challenge for the teams was the descent – out of 19 teams, only two managed to recover their rockets in good condition. This is because opening a parachute and controlling a rocket's descent is very difficult – it's something that even NASA engineers struggle with, let alone students. "Opening a parachute when a rocket is in freefall can be chaotic," says Erik Uythoven, a mechanical engineering student who worked on deploying the parachute. "There are a lot of random movements, and something unexpected always happens. That's why you need a really robust and reliable system." The EPFL team used an innovative approach that helped it succeed: "Unlike most other teams, we didn't use pyrotechnic actuators, which are more difficult to control and can damage the rocket," Uythoven explains. "We developed a mechanical system inspired by rescue parachutes, and it worked really well."
Founded in 2016, the EPFL Rocket Team now consists of around 200 EPFL students and has a budget of hundreds of thousands of Swiss francs. Over the years, the team has become much more professional in its operations. Team members now design semester-long projects that EPFL students can take for course credits. "This year, we offered 47 projects to EPFL students. There are hundreds of credits up for grabs!" says Mathieu Udriot, a microengineering student and one of the team's coordinators.
This opportunity to develop a rocket gives team members hands-on experience that they would be unlikely to get from a standard university curriculum. For instance, there's a lot at stake when you launch a prototype rocket – even if the prototype fails, the material damage from the launch can cost a staggering amount of money, and there is a considerable risk to the people involved. Such an exercise therefore requires students to be much more precise than usual. "This type of experience is rewarding on both a personal and professional level," says Alejandra Plaice, a microengineering student who led the structure team. "The skills we gain from this experience can be transferred to the business world. And these aren't skills we can develop through regular classwork."
«These projects are extremely beneficial to students' education – they should play a bigger role in their degree programs.

»
As the EPFL Rocket Team further grows and expands its ambitions, its members have decided to focus solely on European competitions. Although the team usually competes at the Spaceport America Cup – a global event held in New Mexico that attracts over 150 teams from around the world – the EPFL group has already decided not to compete at next year's event. They want to focus on the European aerospace industry because it's much more accessible to them than the US one, where aerospace companies cannot hire non-US citizens because of restrictions imposed by the government. The EPFL Rocket Team also plans to shift its focus to developing new technology. "We've competed regularly for the past four years, and would now like to work on a longer-term project, like reaching space, which means getting to an altitude of over 100 km," explains Loup Cordey, who manages the rocket's payload. "We're also aiming to develop a thrust vector control system. This would allow us to land our rockets more efficiently, like some of the industry's major players."
The EPFL Rocket Team also plans to develop an enhanced liquid-propellant engine and a rocket that can reach supersonic speeds. To help them achieve this goal, the team members encourage anyone with an interest in the field to consider applying for one of the many open positions, some of which are on a volunteer basis and others which give EPFL credits for semester-long projects. The Rocket Team is also involved with MAKE projects, an EPFL educational initiative. The hope is that these projects will have a positive impact on the student community and bolster EPFL's reputation, something valued highly by upper management. "Students sometimes dedicate hours upon hours per week to these initiatives, on top of their studies," says Cordey. "These projects are extremely beneficial to students' education – they should play a bigger role in their degree programs."