A second lease on life for laboratory rats
Dozens of EPFL lab rats will embark on new lives as domestic pets. The initiative, the first of its kind in French-speaking Switzerland, comes under a recently signed rehoming agreement with national animal welfare organization Swiss Animal Protection.
Back in the 1980s, very few Swiss households kept rats as pets. But that has changed in recent years. Why? Because these sociable, curious and intelligent creatures make great companions – as long as they're given the time and space they need. With demand for pet rats on the rise, EPFL has teamed up with Swiss Animal Protection (SAP) to allow people to adopt rodents whose time in the lab has come to an end.
With their knack for learning new tasks, rats are primarily used in behavioral experiments. In fact, in 2020, they accounted for 9.5% of all research animals in Switzerland, third only to mice and birds. Around 350 of these creatures are currently kept in EPFL's animal facilities, with the exact figure varying as the needs of the scientists fluctuates. The School's lab rats were all born and raised in a specialized facility and have never experienced life outside the laboratory. Most end their lives in terminal experiments, where they are euthanized so that scientists can take tissue and organ samples for further study. But not all rats are destined to die in the laboratory – and these animals could potentially find new homes as domestic pets.
A first in French-speaking Switzerland
While laboratory animal adoption programs are well-established in France, the first such project in Switzerland appeared in 2018, through a partnership between the SAP and the University of Zurich. Under the program, which has rehomed over 300 animals to date, lab rats that have not been genetically modified or used in experiments that cause moderate to severe impairments are eligible for adoption. But, until now, there was no such initiative in French-speaking Switzerland. "When I learned about the program at the University of Zurich, I decided to explore whether we could do something similar," says Alexandre Widmer, a scientist who oversees the implementation of the 3R principles in animal research at EPFL and manages the new rehoming program. "In February 2021, I pitched the idea to the head of EPFL's Center of Phenogenomics" – which manages EPFL's animal facilities and supervises animal experimentation – "and he was supportive, as was the SAP. Negotiating the agreement and ironing out the logistics took time, but we're now ready to launch the program."
«Every animal, especially those used in scientific research, should have the right to lead a new life once they are no longer needed in the lab.

»
Under the agreement, EPFL will donate surplus rats – all raised in the lab or used in scientific experiments – to the SAP. The School will also cover part of their care costs for the first 30 days following donation. Once the animals are placed in the SAP's care, the organization will help them acclimatize to their new environment and work to find them a suitable, long-term home. Under the University of Zurich program, every rat donated to the SAP is adopted within 30 days.
"This new agreement is a step in the right direction," says Julika Fitzi, a vet and head of the animal experimentation consulting center at the SAP. "Every animal, especially those used in scientific research, should have the right to lead a new life once they are no longer needed in the lab." Initially, the animals from EPFL will be transferred to the Club der Rattenfreunde, an SAP-affiliated organization in the Canton of Aargau in northern Switzerland that specializes in rat fostering and adoption. In the longer term, the rodents could be housed pending adoption by another SAP-linked organization, based in Brügg in the Canton of Bern.
«I never would have believed that there were potential homes for so many of these rats outside of the lab.

»
"This is a great idea"
The initiative has also proved popular with the laboratory teams, who own and use the animals for research under a strict and closely supervised license. One scientist, whose research group could donate rats for adoption, said he was surprised to hear that such an initiative was possible and that a similar program was already operating successfully in Zurich: "We already try to share animals we don't need with other research groups as a way to avoid 'waste.' But I never would have believed that there were potential homes for so many of these rats outside of the lab. This is a great idea."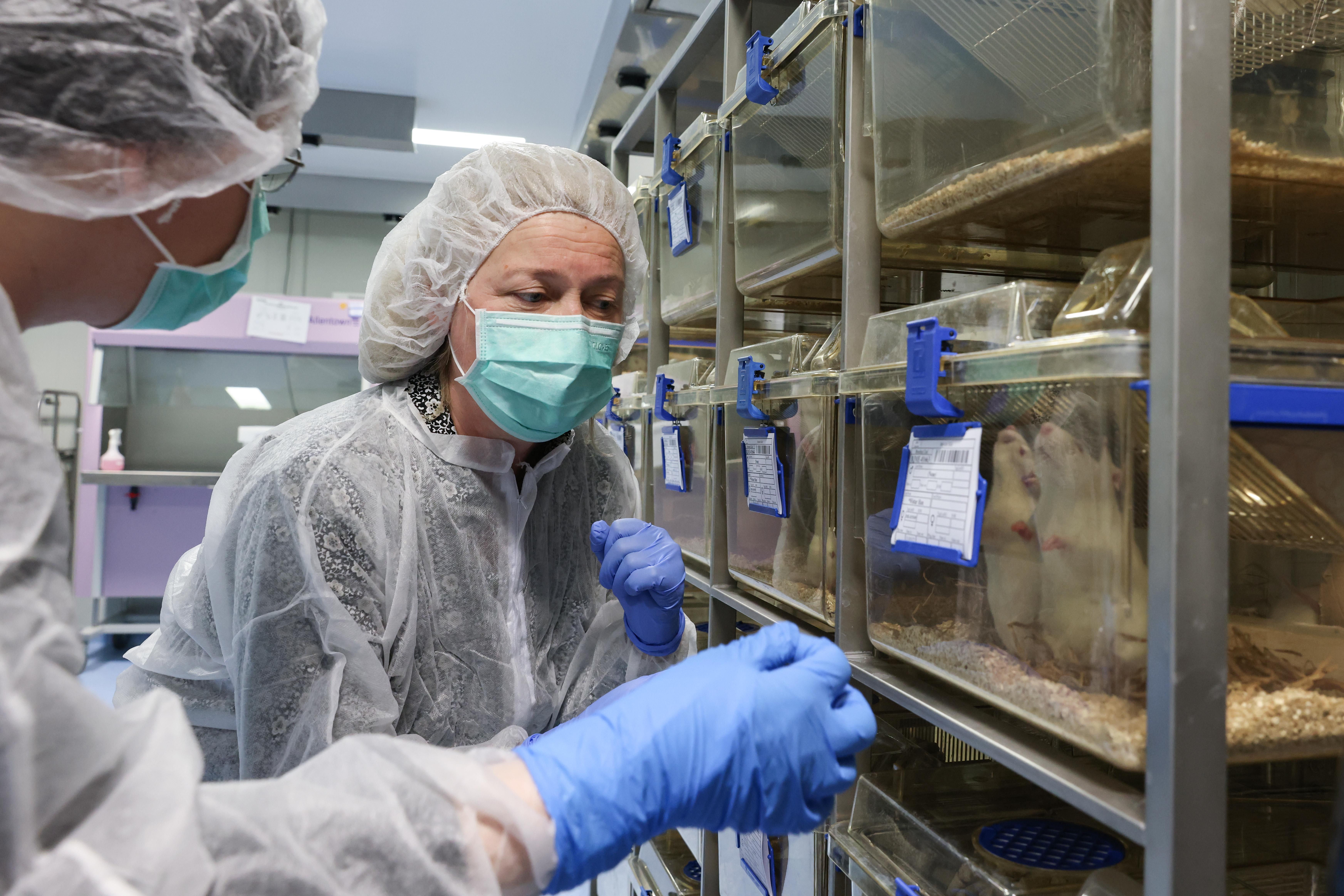 Julika Fitzi, head of the AE consulting center at the SAP, in EPFL's animal facility © Alain Herzog, EPFL
The SAP acknowledges that "some types of animal research, especially those linked to improving animal welfare, are useful and cannot yet be entirely replaced by other methods." Fitzi stresses that the success of an adoption program rests on how scientists plan their research. "There's a lot of background work to be done, not just in terms of adoption programs but in terms of fostering a culture of care more generally. Before conducting an experiment, scientists should consider what will happen to the animal afterwards. Can it be rehomed? If so, how much will that cost? I know these things aren't easy, but it isn't something researchers even think about. Changing this mindset will take time. But we're already seeing signs of a positive shift in Zurich."
To begin with, the adoption program will be relatively small in scale, with only a handful of rats rehomed each month. But the numbers could climb if the initiative proves successful. The program could also be expanded to include other species such as mice and zebrafish – again, provided they haven't been genetically modified. The SAP notes that there is also demand for these animals from potential adoptive households across Switzerland.