A first road test for EPFL Xplore's space rover
At the start of the 2020 fall semester, a group of EPFL students set up the EPFL Xplore association with the goal of building a rover from scratch. Their vehicle, named Argos, will compete in this weekend's European Rover Challenge – Europe's most prestigious competition dedicated to mobile robots. 
Standing tall on its six wheels and fitted with a robotic arm, a LIDAR sensor for scanning the terrain, and a rocker-bogie suspension system modeled after one developed by NASA, the gleaming metal rover is the center of attention. Gathered around it, the robot's engineers present it with gusto. Argos – a nod to the mythological Greek ship Argo in which Jason set sail to recover the Golden Fleece – was built from scratch in the course of a single year.
Selected to take part in the European Rover Challenge, one of the most high-profile international competitions, Argos will be put through its paces on 10–12 September in Kielce, Poland. Competing teams must show that their rovers can assess the terrain, perform certain tasks reliably, move about in an autonomous or semi-autonomous manner, and collect samples.
This is an exciting opportunity for the four students behind the EPFL Xplore project, who decided to design a rover after reading about the University Rover Challenge that's held every year in a desert in southern Utah. Jonathan Wei and Quentin Delfosse, the EPFL Xplore association's president and vice-president, respectively, are first-year Master's students in microengineering and robotics. They are former members of the EPFL Rocket Team and passionate about robotics – and eager for a new challenge.
«It's a great supplement to our classes, where we don't really get hands-on experience. For example, before this I had never touched a machine tool.

»
The third student, system engineer Thomas Manteaux, provides technical coordination for the project. Now in the second year of his Master's degree in microengineering, Manteaux understands the link between robotics and mechanics, and likes the project's cross-disciplinary nature. "It's a great supplement to our classes, where we don't really get hands-on experience. For example, before this I had never touched a machine tool. It also lets us connect with students in other areas."
Arion Zimmermann, the fourth Argonaut, is a first-year Master's student in electrical engineering. He's a whiz at coding, which he has been doing since he was 12. "I really enjoy it, it's a creative act. You can build an incredibly complex application from the ground up, limited only by your imagination," he says. After helping to develop an onboard computer for the EPFL Rocket Team, Zimmermann wanted to use his creativity on another project. Although he started out as a system engineer, he ended up "building those parts of the rover that we couldn't find anyone else to take on." He developed the communication protocol between the rover and the control station, as well as the rover's 600 Wh battery, safety system, main power supply, and simulator for testing how the motors would behave.
A little elbow grease
EPFL Xplore currently brings together some fifty students from different disciplines. As a MAKE project, it receives support from EPFL and students can receive credit for it as a semester project or towards their Master's degree. It is overseen by an academic advisor, Alexandre Alahi, a tenure-track assistant professor who heads up EPFL's Visual Intelligence for Transportation Laboratory (VITA), and David Rodriguez, an engineer at the EPFL Space Center.
"The team is made up of seven groups; each group is responsible for one of the rover's sub-systems. Coordinating communication between the groups and planning out the project proved to be a challenge. We underestimated how much time it would take, and as a result we had to work extremely hard during the final phase to be able to test the robot prior to the competition," says Delfosse.
Above all, developing the algorithms that govern the autonomous navigation took much more time than expected. "Analyzing the rover's surroundings and avoiding obstacles involves a great deal of overlapping data, and we needed algorithms that could run simultaneously," says Delfosse. There was an additional challenge: "we also needed to create an interface between the sub-systems that control the robot's fourteen motors, because we had two communication protocols."
Successful test results
The team managed to overcome these obstacles, which also included getting funding. "We received about CHF 115,000. Fundraising was quite difficult at first, because we had nothing to show potential sponsors," says Wei, who learned a great deal about both sponsorship and project management.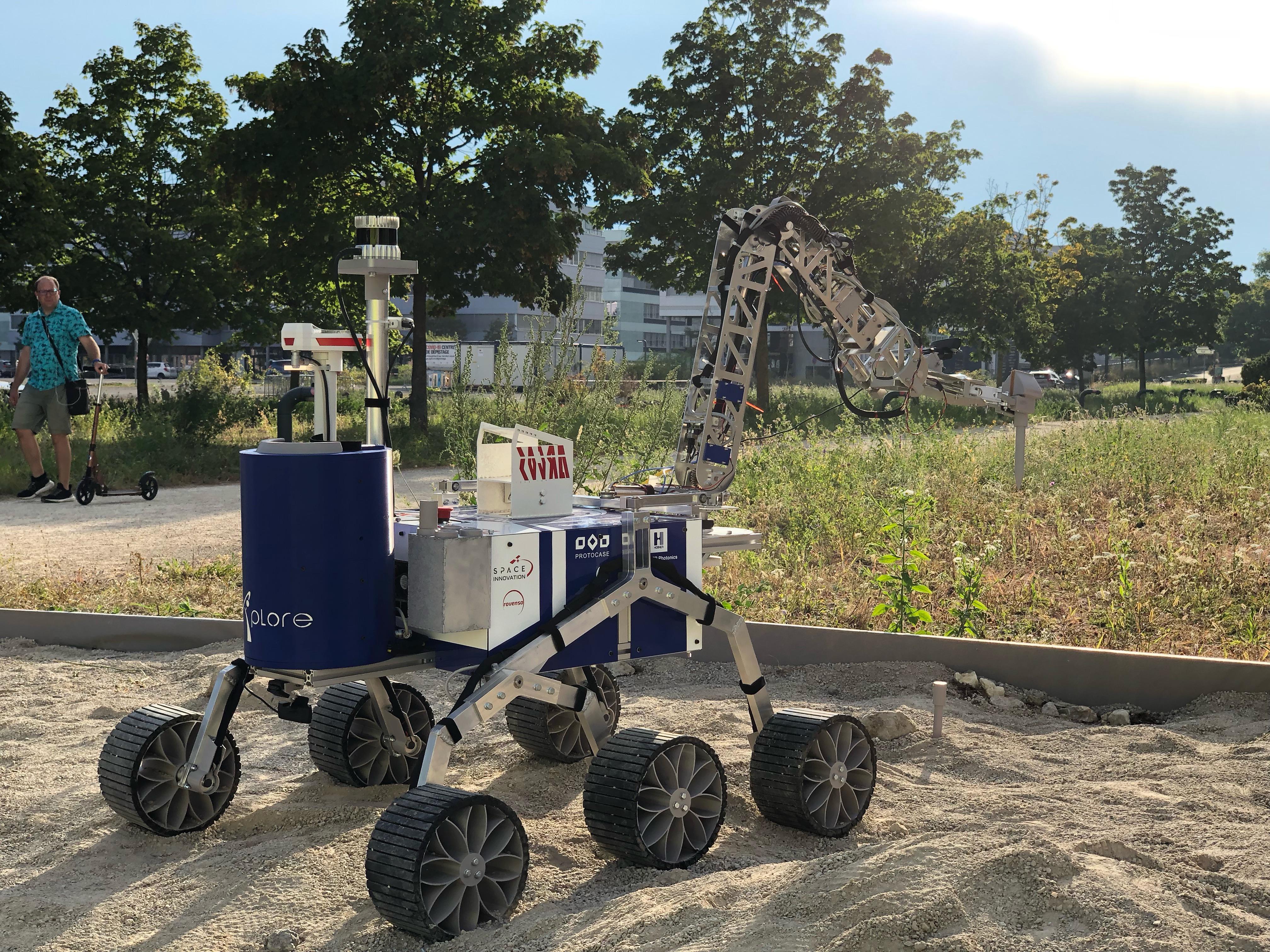 The Rover at the Mars Yard. © EPFL Xplore 2021
For more than a month, the EPFL Xplore students tested their rover on campus on a special track they built – the "Mars Yard," a rectangular stretch of sand with the occasional rock – and made some final adjustments. "We were quite pleased with the results. We succeeded in creating a stable, high-performance rover – even though it could have been even lighter and more compact. Since the initial tests, we managed to lighten it a bit, but it still exceeds the 50 kg weight limit, and we weren't able to replace certain steel parts with printable ones, since printed components don't have the right mechanical properties. It's a start and we still have room for improvement. The competition is one step in a process and regardless of the outcome, it will have been a rewarding experience," say the four students who spearheaded the project. One day, these Argonauts hope to enter their robot in the University Rover Challenge. In addition, they want to develop a polar robot for scientific expeditions – a first step before shooting for the moon.