Women at EPFL: (civil) engineering the future
International Women's Day Series – Like EPFL's other branches of engineering, its civil engineering program struggles to attract female students, who account for approximately 25% of total enrollment. Nonetheless, the department is determined to boost the appeal of this discipline and the wide range of professions for which it prepares graduates. We interviewed women in Bachelor's and Master's programs about why they chose civil engineering and how to bring more women on board.
After earning her matura (a Swiss school-leaving certificate) from Collège de Saint-Maurice, Méryl Schopfer knew exactly where she wanted to study – EPFL. Ever since childhood, she had been fascinated by how buildings are constructed and, given the high grades she received in mathematics and physics, she felt drawn to civil engineering. "I find everything about the world around us so interesting, and I thought this would be a good way to answer many of my questions." Now in the first year of her Master's degree, Schopfer has never regretted her decision. Although all this seems natural to her, her choice was quite exceptional: in high school, the physics & applied mathematics option she chose consisted mostly of boys, and she was the only girl to choose engineering.
While the gender ratio has improved considerably over the last few decades, engineering programs, including civil engineering, still find it difficult to attract female students. At EPFL, between 20% and 25% of Bachelor's and Master's students in civil engineering are women, a percentage that never seems to rise. There are many reasons for this, ranging from popular perceptions of the profession to societal stereotypes and concerns about working in a predominantly male environment.
«Part of the solution lies in conveying a more accurate picture of what civil engineering is about.

»
"Engineering involves a fair amount of hard science – math and physics – that, starting in high school, tends to attract more boys than girls. Civil engineering also is stigmatized by the cliché image of cement mixers at construction sites which, while it might appeal to some, drives many others away. Part of the solution lies in conveying a more accurate picture of what civil engineering is about, which in turn may help to open up the profession," says Professor Lyesse Laloui, head of EPFL's civil engineering section.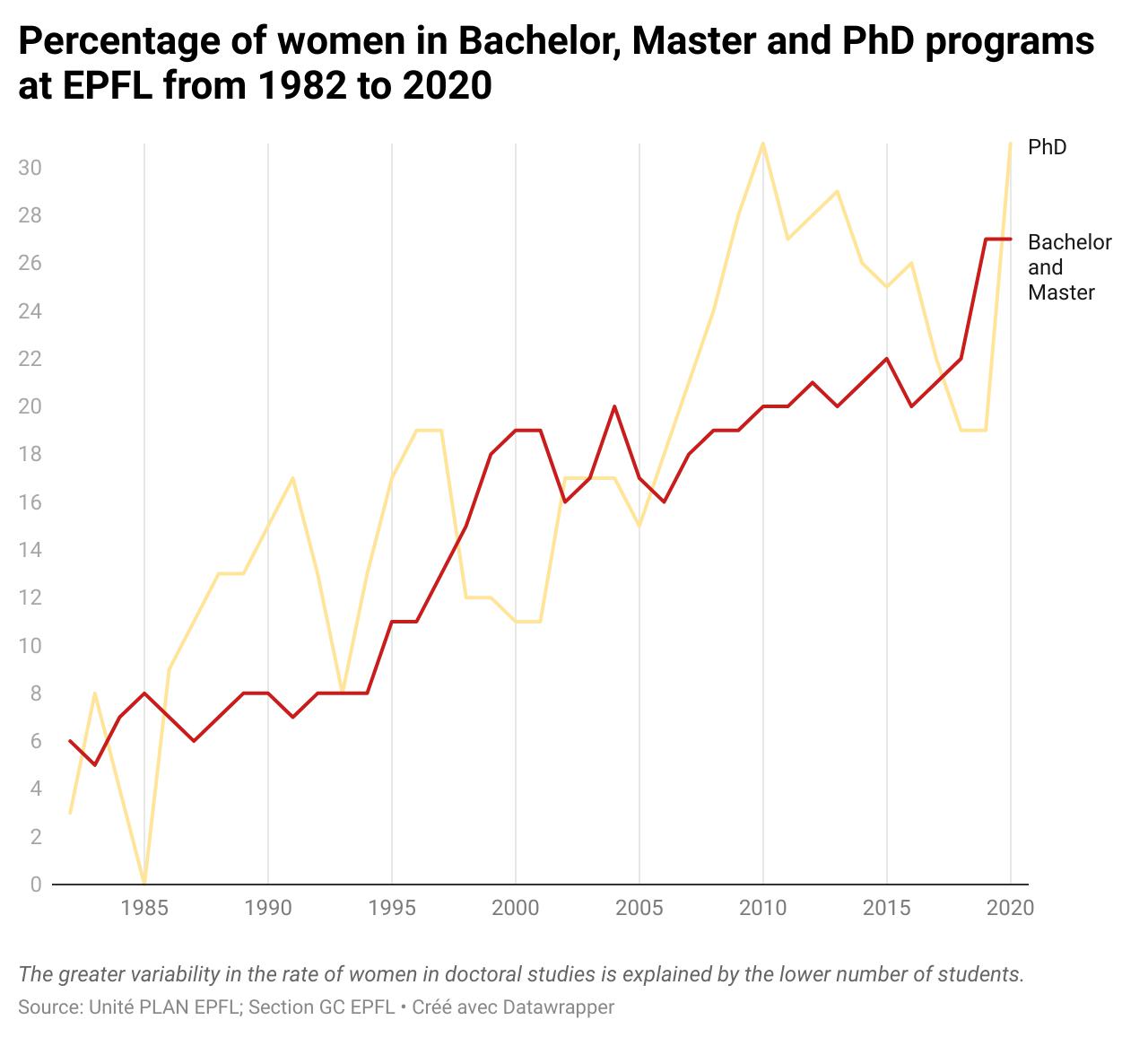 Beyond just construction sites
Civil engineering encompasses a wide range of fields that involve digital technology, modeling and artificial intelligence – such as dam construction, material flows, autonomous vehicles, energy and carbon storage. This is very far indeed from the stereotypical image of a construction site, which is still viewed primarily as a masculine setting. "At school, I was rather interested in architecture, but found that it was too artistic for me. So I turned instead to civil engineering, which seemed a good compromise with science even though I didn't really know much about it. My original impression was that civil engineering is all about concrete and building sites, which doesn't really appeal. But in the end, I discovered a wide range of areas that are really interesting," says Julie Devènes, who is in her second year of a Master's program in civil engineering.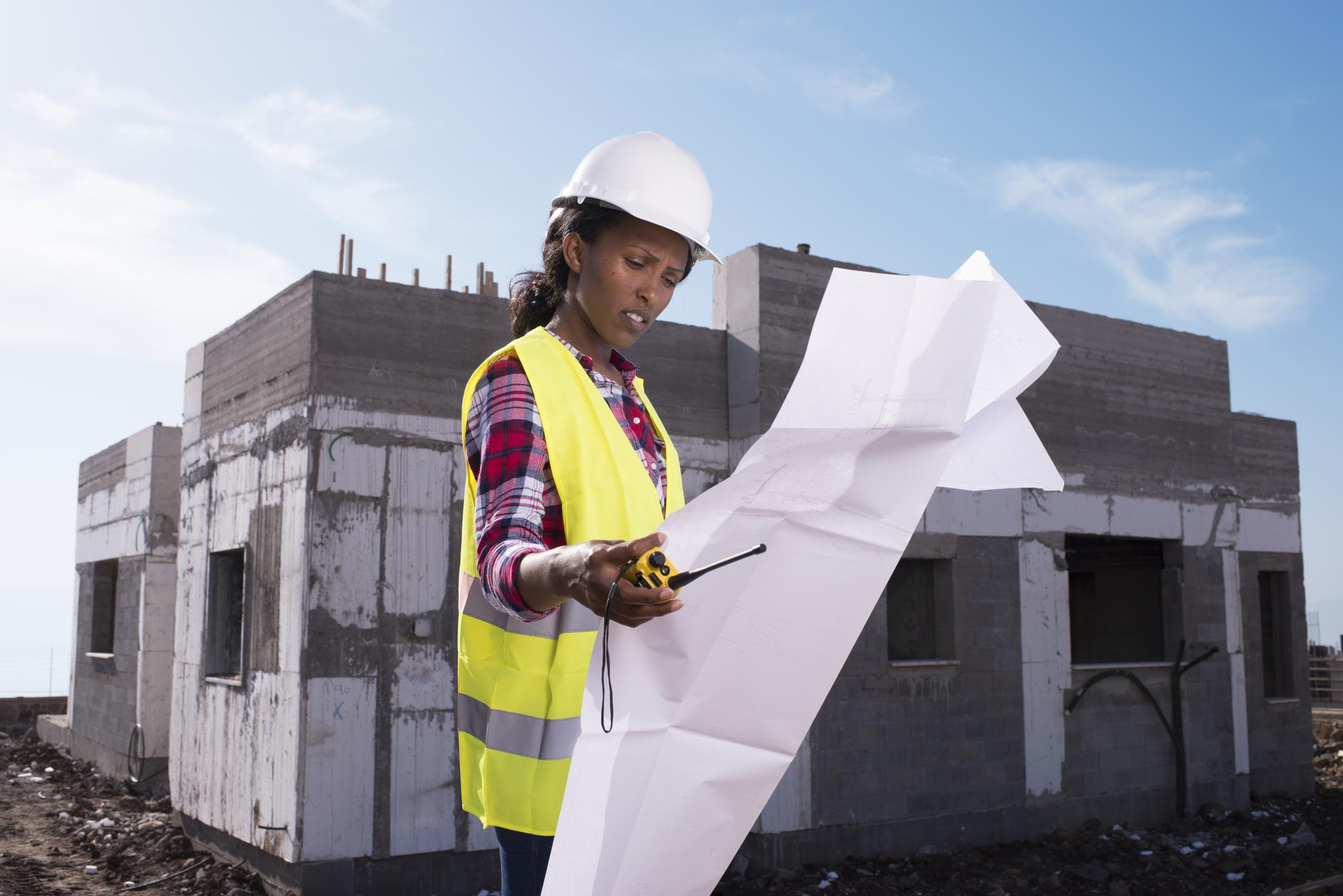 To be more attractive, the field of civil engineering wants to stand out from the stereotypical and reductive image of the helmet, the concrete and the worksite. © Istock
Devènes also remembers choosing the math & physics option at her secondary school in Bussigny, something exceptional for a girl. "That option was already a big step, since nearly all of my friends were doing something else. In high school, there were only 8 girls studying math & physics out of a class of 24." But that wasn't enough to make her change course: "The most important thing for me was to do something I felt comfortable with," Devènes says, smiling.
It's hard to say why girls are less likely than boys to focus on math and physics. Both home and school environments likely play a role, along with societal conceptions of these subjects. Halime Wawa Dahab, who studied science at a French lycée before earning a place in a prestigious preparatory math & physics program in Paris, offers an example: "My main teacher at the lycée told me that, despite my good grades, I would never get into the preparatory program. I don't know if that was because he didn't believe in me, or because he thought I wouldn't do well, but I noticed that he was less hard on the boys who chose the same path. In the end, I got in and they didn't," says Dahab, who is now a third year Bachelor's student in civil engineering.
"They say that math is really more for boys. But that's not true at all. Look at me, I'm a girl and it interests me as well," says Rosa Schnebli, who is a second-year Bachelor's student in civil engineering. The fact that she originally chose a language option in her Zurich high school is proof that it's possible to change direction. "Everything was new at first, and it would have perhaps been a bit easier if I had already known the basics. I struggled a bit with analysis, algebra, and physics – but now I'm not having any trouble, and it makes no difference that I previously majored in languages."
«When it comes to results, both sexes perform equally well. There's a mix of male and female students in the classroom, as well as in project groups.

»
"On an equal footing"
Once they enter university, no distinctions are made between male and female students. "In my experience, women don't need to worry that they'll be up against female stereotypes in our civil engineering program. At EPFL, there are no disparities, and for a long time, women have been on an equal footing with men. I don't see any differences in the classes, student representatives or the Teaching Committee. There's total equality," says Lyesse Laloui. When EPFL's civil engineering program is presented at Swiss high schools, the presenters make a point of stressing that the field is perfectly suited for both women and men, and that motivation is the only thing that matters. Further, women often earn higher grades on their Master's projects.
"When it comes to results, both sexes perform equally well. There's a mix of male and female students in the classroom, as well as in project groups," says Marie Violay, a tenure track assistant professor in civil engineering.
A need for more women professors
The slow – and fairly recent – increase in the number of women in the profession is also reflected in an under-representation of women on the faculty. At EPFL, including at the School of Architecture, Civil and Environmental Engineering (ENAC), major efforts are underway to encourage women to apply for vacant positions. A 2020 report commissioned by EPFL on the status of women faculty lists 16 measures that can be taken to improve their status – and the new Vice Presidency for Responsible Transformation has taken note. But such a shift will not happen overnight.
«It's motivating and inspiring to have women professors.

»
"To increase the number of women professors, you need a lot of women PhD graduates. You have to train people, and this is not necessarily a given because of the restricted number of female students. Thus, since the pool is limited, it's not that easy for us to recruit women professors," says Violay. Schopfer adds: "Women now account for 20% of total enrollment, but this figure was much lower when our own professors were themselves students. Although it's motivating and inspiring to have women professors, I take it in stride that the current faculty reflects this lack of diversity."
The increased presence of women on the faculty and in the various fields of civil engineering may also help to bring in more female students, who will more easily identify with these role models. "It's hard to see yourself joining a profession when all the people you talk to about it are men," says Devènes. "I hope that there will be more and more women in leadership roles. We have to pave the way."