NotifyMe, a new app to relaunch social events
NotifyMe is a new app that alerts people who attended an event where there was a risk of COVID-19 infection. The app, using technology developed in part at EPFL, in no way compromises users' personal data. NotifyMe works well in conjunction with SwissCovid and is currently being pilot-tested at EPFL.
Unfortunately, keeping a distance of 1.5 meters between people in meeting rooms is not necessarily enough to eliminate the risk of airborne transmission of SARS-CoV-2, especially in light of the new, more contagious variants. Even if everyone in the room wears a mask, the virus can still spread, and the SwissCovid app won't alert you if you kept the required social distance.
A new protocol called CrowdNotifier, developed in part at EPFL, could help break transmission chains resulting from these types of events. The protocol is designed to strictly protect users' identities – just like for SwissCovid – and uses open-source code. CrowdNotifier sends an alert to your smartphone if you were in an enclosed space with someone who subsequently tested positive for COVID-19 and who may have been contagious at the time of the event. In Switzerland, the protocol is used in the NotifyMe Check-in app developed by Ubique, the same company behind SwissCovid. The app can be downloaded free of charge on the App Store (for iPhones) and Google Play (for Android devices).
Pilot tests of NotifyMe began at EPFL in January. So far it has been deployed in around a dozen meeting rooms, classrooms and cafeterias, and will be gradually rolled out across the Lausanne campus. "NotifyMe will enable us to beef up our COVID-19 protection plan," says Matthias Gäumann, Vice President for Operations and president of the operational Covid commission at EPFL. "It will let the students and staff engage in certain activities on site if they have to, while limiting the risk of creating a transmission chain."
No personal data
NotifyMe works like other tracing apps for public spaces – but with a few crucial differences. It doesn't record or transmit any personal data, doesn't use Bluetooth or GPS, and functions in a "decentralized" manner (i.e., locally on each user's smartphone). NotifyMe does not create a central database of who visits which locations. Nor does it need/build a database of organized events.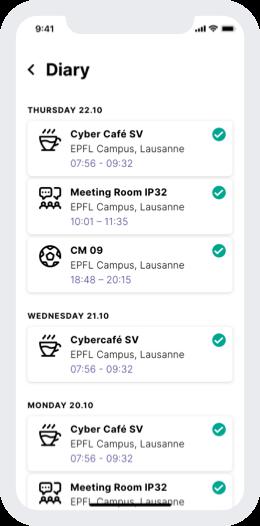 To use the system, the organizer of an event – which could be a work meeting, a private get-together or a cultural event, or gatherings at a bar or restaurant – generates a QR code on the NotifyMe website (notify-me.ch) and displays the code at the event. Attendees are asked to scan the code with the NotifyMe app when they arrive (check-in) and then again when they leave (check-out). That's it. Their smartphones will store a specific code for that event along with the date and time they came and left. These data are encrypted and never leave the users' devices. Users can also view a password-protected list of the events they attended in the previous 14 days.
Alert everyone in a single step
If someone who attends an event later tests positive, the event will be identified during the contact tracing process carried out by the public-health authorities. The authorities will then notify the event organizer (or the venue manager, such as the bar owner). If the organizer has used NotifyMe, they can trigger the process of automatically alerting all attendees. Within two hours, the attendees will see a message instructing them to self-isolate and get tested so as not to infect anyone else.
The app can generate the alerts quickly because it downloads a list of encryption keys every two hours for events that took place in the past 14 days and where an attendee later tested positive. The list – also encrypted – is stored on a server managed by the public-health authorities; it's updated every time an event organizer triggers the NotifyMe alerts. The events themselves are not identifiable in order to prevent them from being "blacklisted."
Once the app has downloaded the list of encryption keys to a user's smartphone, it runs the keys against the codes stored on that phone for the events the user attended. If a key unlocks a code, that means there is a match for the specific event and time – and therefore a chance the user may have become infected. The app will display an alert along with instructions for what the user should do next. "Our protocol can inform participants much more quickly and reliably than other methods currently out there," says Wouter Lueks, an EPFL researcher and the lead author of the CrowdNotifier research article. "Under the current procedure, the cantonal authorities have to manually go through event organizers' attendance lists and contact each person individually. That can take several days and also raises issues of data privacy."
NotifyMe Check-in is currently being rolled out as an independent app, but it could be integrated into a future release of SwissCovid. As a reminder, SwissCovid is a contact tracing app that sends an alert to people who were in close contact (less than two meters away for more than 15 minutes) with someone who may have been contagious, such as on a bus or train.