New exhibition showcases reuse principles in the built environment
In order to shrink the construction industry's vast carbon footprint, architects will need to build recycling and reuse principles into their design process. EPFL's Laboratory of Elementary Architecture and Studies of Types (EAST) is leading the charge on this front. The lab's work went on show at the Swiss Biennale of Territory, which opens in Lugano on 1 October.
The energy-intensive construction industry is among the biggest culprits when it comes to greenhouse gas emissions and rising global temperatures. But with storms, floods, heat waves and other natural disasters set to grow in frequency in the coming decades, the built environment is also one of the victims of climate change. The urgency of the situation calls for a rethink – one that starts with architects.
The construction industry makes up a sizable share of the Switzerland's environmental footprint, accounting for 84% of the 80–90 million metric tons of waste generated each year – ahead of any other sector – and a large portion of the country's energy consumption. Labs at EPFL's School of Architecture, Civil and Environmental Engineering (ENAC) are pushing the boundaries of innovation and developing sustainable design and construction methods that will shape the buildings of the future. One example is the Laboratory of Elementary Architecture and Studies of Types (EAST), led by associate professors Martin and Anja Fröhlich, where researchers are investigating how recycling and reusing building materials could conserve energy and resources.
Shifting mindsets
In 2016, EAST began exploring more efficient ways to recycle and reuse unwanted construction materials and disused structures. This new way of thinking, which considers buildings by type and potential, is part of a wider effort to change the way architects are trained. It takes its cues from the concept of Baukultur, a holistic approach to built-environment design. Every year, the lab sets students a challenge: to design and build mock-ups from recycled materials. Working in teams of 30, they have to think creatively and come up with two designs using the same constituent parts. In one project, students built a children's pavilion at Servion Zoo near Lausanne.
"We want our architecture students to consider sustainability at every stage of the design process," says Martin Fröhlich. It's a view shared by Tiago P. Borges, an architect and assistant at the lab: "In five years, or maybe a decade from now, today's students will be tomorrow's leaders. If we want them to change the world, we have to press home the right values now."
EAST's work will take center stage at the third Swiss Biennale of Territory, held every two years in Lugano by the International Institute of Architecture (i2a). This year's event, which focused on the theme of reuse, took place from 1–3 October. Fröhlich took part in a panel discussion entitled "Reuse at School" alongside Prof. Martin Boesch from the University of Lugano (USI) and Prof. Jan de Vylder from ETH Zurich.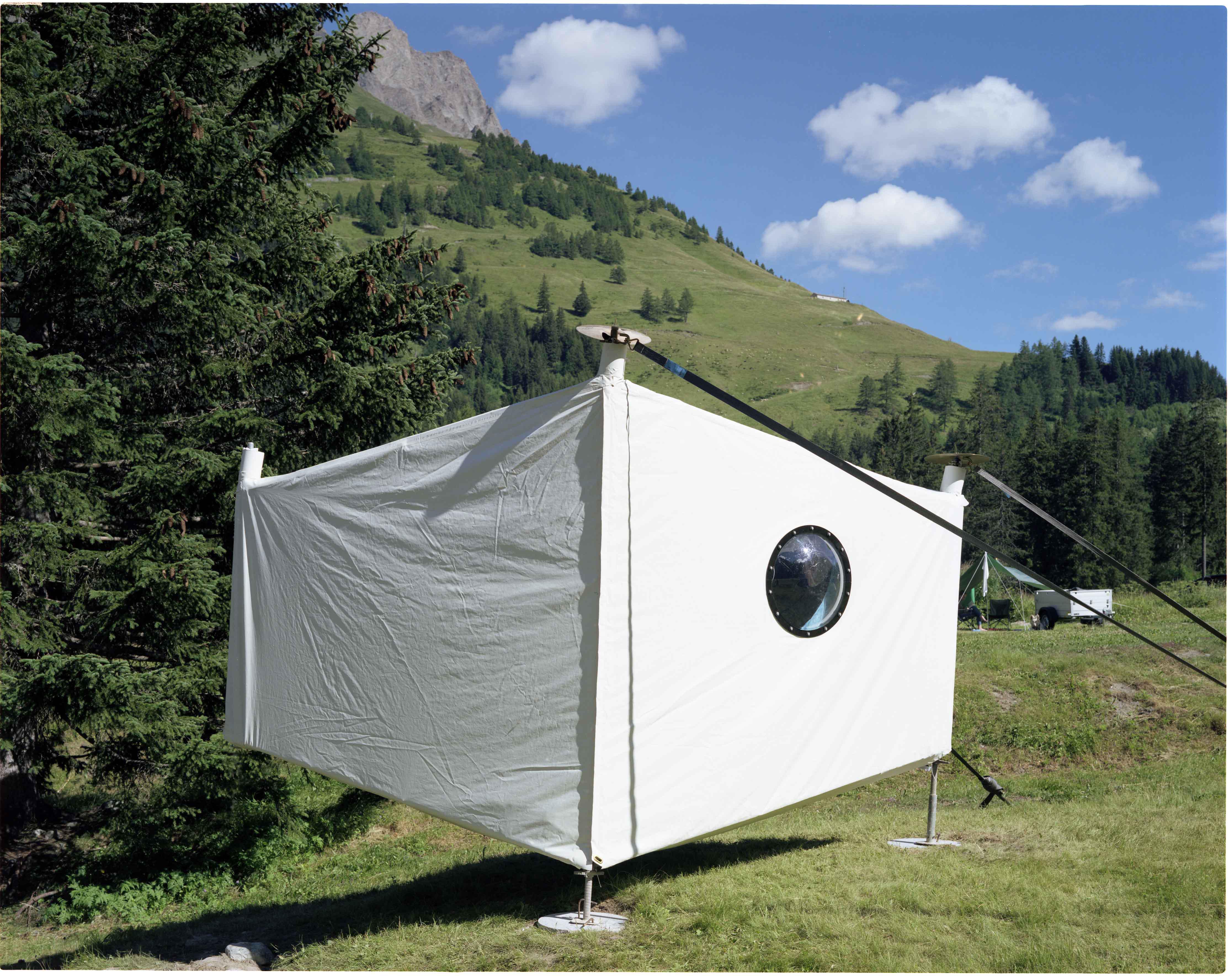 With a structure composed of elements of a scaffolding and a paraglider, EAST's students designed and produced a prototype pavilion for the Swiss Alpine Club. © 2020 EAST EPFL
«It's important to get young people thinking about sustainable design from an early age. It has to start at school, long before they come to us. By the time they get to university it's almost too late, because it's the last opportunity to shift mindsets. Students need to take the driving seat, not the back seat – they should be acting, not reacting.

»
"Something needs to change"
The event will also feature an exhibition, entitled "Rather Than – Sustainable design principles in the work of Studio EAST", that takes an in-depth look at the design and construction of three of the pavilions. "We want to show that demolishing a building isn't the end of the story," says Tiago P. Borges, who's co-organized the exhibition. "Why throw away perfectly serviceable materials when we can reuse them and conserve resources in the process? Given the scale and breadth of the construction industry's footprint, wasting materials is just irresponsible. Something needs to change – and that starts with better design."
Researchers at EAST argue that most of the solutions needed to make buildings more sustainable and less energy-intensive are already out there. The challenge now is to abandon the wasteful practices of the past – a process that will require a concerted effort from architects, construction-industry professionals, clients and society at large.